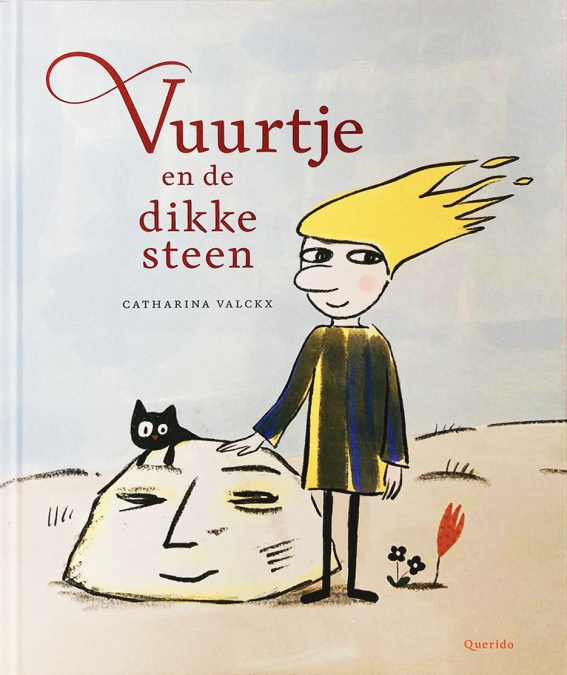 VUURTJE EN DE DIKKE STEEN is uit!
Ik hoop dat het boek net zo zal shinen als het fluoriserende haar van Vuurtje!
Vuurtje is met 2 kleuren fluo gedrukt, wat een betoverend effect heeft.
Presentatie van de uitgever, Querido:
Haar haren lijken wel vlammen, daarom heet ze Vuurtje. Op een zomerdag gaat Vuurtje op een grote steen zitten. Daar wordt hij wakker van, en hij begint te praten. Hij heeft honderdduizend jaar geslapen, dus er is veel dat hij vergeten is.
Samen met haar kat, een schildpad en een behulpzaam wolkje, helpt Vuurtje de dikke steen zijn geheugen op te frissen. En zo begint een hele bijzondere vriendschap die vonken geeft.
Een zomers prentenboek waar je onmiddellijk blij van wordt.
Ik tenminste wel :) !
Vanaf 3 jaar
Ook in het Frans: Allumette et le gros caillou .
This book is about Vuurtje, which means Little fire in Dutch. The little girl is called Vuurtje because of her hair, that looks like flames.
During a walk she sits down for a rest on a big rock and accidentaly wakes it up. The rock starts talking. It had been sleeping for a hundred thousand years, and can not remember everything. He has forgotten what cherries are, for exemple. But Vuurtje is willing to refresh his memory, with the help of her cat, a turtle ans a helpful little cloud.

Age 3 and up.
Printed with two additional fluo colors.