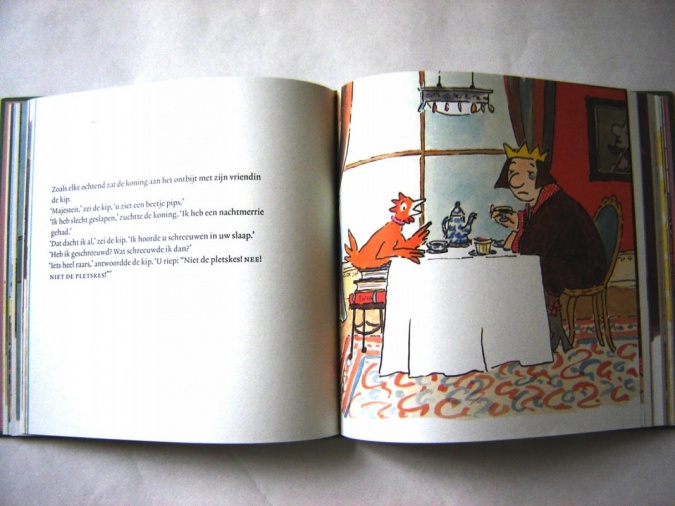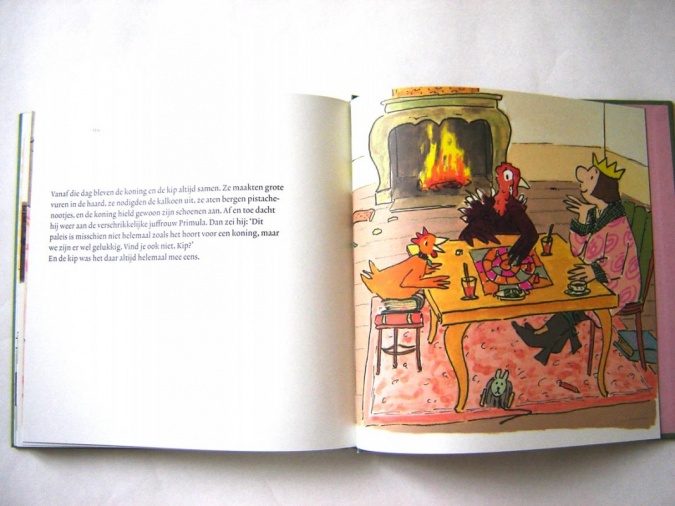 De koning en de kip is uit!
23-12-2013
Une nouvelle édition néerlandaise : toutes les histoires du roi et de la poule réunies!
De koning en de kip - vijf verhalen is uit!!!
Het eerste verhaal van de koning en de kip was mijn eerste prentenboek. Het verscheen in 1997.
Daarna heb ik nog drie boeken gemaakt met dit vermakelijke duo.
Nu brengt Gottmer deze mooie dikke compilatie van de koning & de kip - met een nooit eerder in druk verschenen verhaal : De kip is ziek.
Het ziet er geweldig uit, het papier is mooi en de vormgeving is bijzonder elegant.
Alvast een heel leuk stukje van Edward van de Vendel, zeer gewaardeerde collega:
En een mooie aanbeveling van boekhandel Gillissen & Co, Haarlem:
"Een geweldig voorleesboek. Onbegrijpelijk dat dit niet al jarenlang een succesnummer is."
Nog een:
The king and the chicken -five stories , is printed!!!
The king and the chicken was my first picture-book, it was published in 1997. Later I made three more books with this joyful couple.
Now my Dutch publisher, Gottmer, publishes a thick compilation edition of the king and chicken's stories.
This will contain the three stories published earlier and a new adventure: The chicken is sick.
The book looks great, the paper is perfect and the graphic design is very elegant.