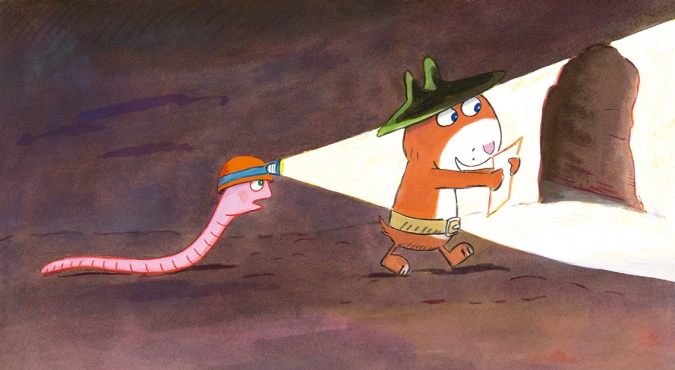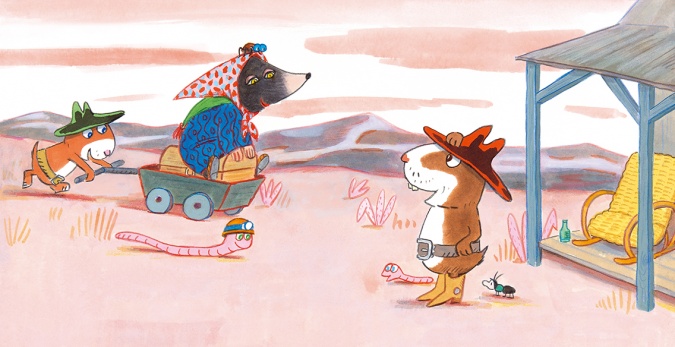 Billy cherche un trésor
Billy cherche un trésor (L'école des loisirs)
Billy zoekt een schat (Gottmer)
Billy e il misterioso tesoro del nonno (Babalibri)
Billy et Jean-Claude (Pierke, Giancarlo) sont de retour!
Dans cette nouvelle aventure pleine de supense les amis partent à la recherche du mystérieux trésor du grand-père de Billy.
Le point de départ de cette histoire a été une image : Jean-Claude dans une galerie souterraine, avec un casque de mineur sur la tête. Les galeries souterraines ont quelque chose de fascinant, d'un peu effrayant. Et le casque de mineur, avec sa lampe à carbure, est un objet tout à fait romanesque, je trouve.
L'intrigue, la recherche du trésor, se situe en grande partie sous la terre.
J'ai conçu le personnage de madame Utopia, la taupe, évidemment en accord avec cette géologie souterraine. Je me suis amusée à en faire un personnage attachant. Une vielle dame habillée de couches diverses à motifs colorés, un peu gitane, un peu mémé.
Le trésor (que je ne vais pas dévoiler) est un objet de transmission. La transmission d'une passion.
J'espère que vous commencez à devenir curieux...
****
Here is the brand new adventure of Billy the hamster cowboy and his dear friend the worm Jean-Claude.
It is about the thrilling search of the mysterious treasure of Billy's Grandpa.
During their spooky journey in underground passages Billy and Jean-Claude meet a friendly old lady mole, and a teasing little spider. But will they find the treasure...?
They will indeed, but I won't divulge it :)
I can only reveal that the treasure is a transmission object.
The transmission of a beautiful passion, from a Grandpa to his Grandchild.

Age 4 and up.
Written in french and dutch, translated into italian by Tanguy Babled.